A s HireWizer continues to advocate the benefits of Remote Work, we're noticing more of a need for remote employment than ever before. To put our conviction of the benefits of remote work to the test, I decided to take my little family of three on a round the world trip while I work as I would in Los Angeles.
'The Roaming Recruiter' is the first addition of a series of articles that will be an honest account of my experiences in the hurdles, successes and discoveries encountered along the journey. Of course, remote work doesn't necessarily mean globe hopping or working out of a beach hut. We have talent from Texas successfully working for employers in the Bay Area because they possess the expertise and have no desire to leave their home for the Bay.
The major point of my journey is that, if I can work from distant parts of the world without hindering the customer service experience our clients are used to, then there's no reason someone that primarily works using their phone and PC can't be successful working from a different State/Region to their employer.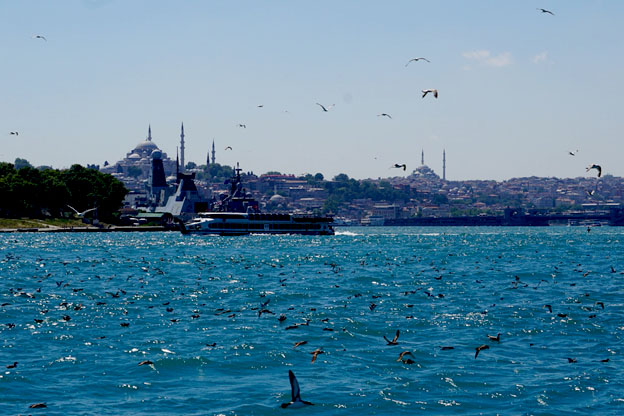 So, Istanbul – it blew my mind. I'm a history buff so seeing architecture from the Roman, Byzantine and the Ottoman era up close and personal was something I'd dreamed of for a long time. I've included some pictures, but they don't do justice. As we walked through the Grand Bazar, I expected a lot of aggressive salesmanship but the vendors were pleasant, the colors and smells stimulating, and knowing people have walked these cobbled streets for hundreds of years before me was inspiring.
The Doner, Baklava, Turkish Delight, and Turkish Coffee were the best food highlights for me. I've had them all before in the US but they just don't compare. The Baklava vendor I spoke to mentioned his family had been artisans for five generations and pointed up to a black and white picture on the wall of his great grandfather at work.
The schedule worked out pretty perfectly. We'd see all the sights during the day and I'd work US hours through the evening (4pm-12am local time). It's important for me to have a dedicated work space. The hotel room had everything I needed but with an active and very vocal 1 year old, the room was best left as a family room. The hotel lobby was always deserted during work hours so that became my office for the week. Turkish Coffee and baklava served every few hours and the barista quickly becoming my Tourist Information Service, helping me plan the next day of travels.
A few things to take into consideration:
Make sure your phone is WiFi Calling Compatible. Sounds obvious but a lot of Android phones don't come with the functionality.
Look into phones with a dual sim functionality or make sure your phone is unlocked and will accept international sim cards. It's easy to find a local sim with a data plan for when you don't have access to good WiFi. When you have Google Voice installed to your phone, you'll be able to make calls via your data plan on your local sim.
Getting a Skype Number is also a good alternative to Google Voice: https://www.skype.com/en/features/online-number/
If your cell phone provider representative quotes you some important information related to your plan – get it in writing.
Schedule your calls back to back. When you're working from a different time zone, it can prove laborsome to wait on a call at 11pm.
Look forward to sharing the Roaming Recruiter's highlights from the next destination: North, England!